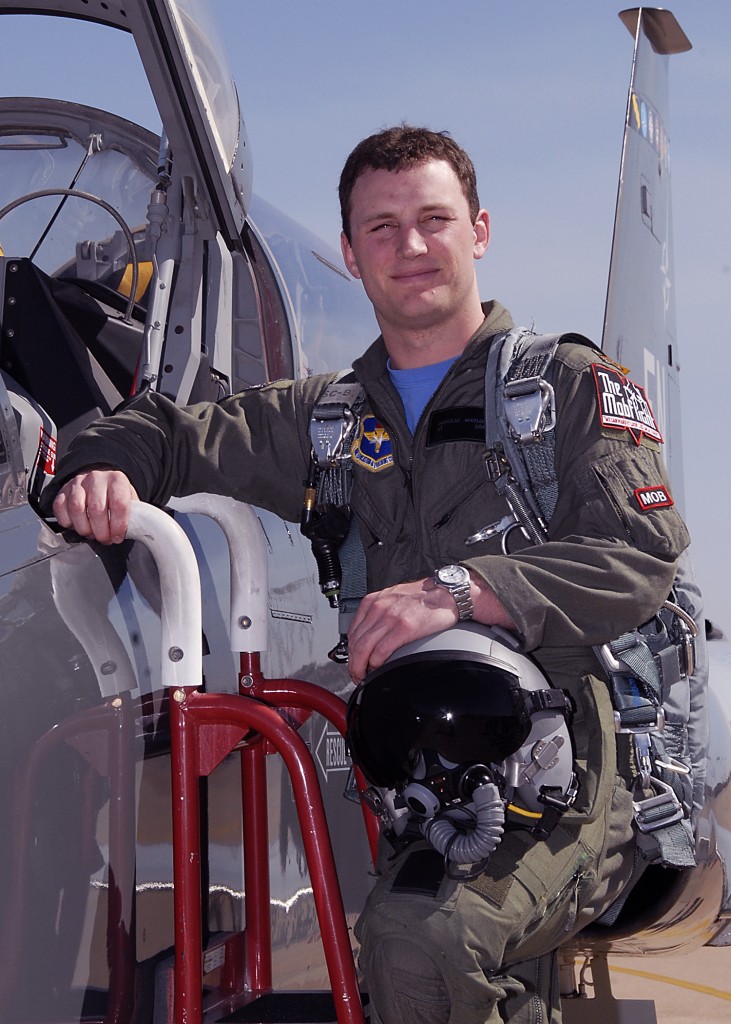 Air Force Captain Nicholas Schade Whitlock, 29, died February 18, 2012 while serving in the U.S.  Air Force in Africa.  Nick and three comrades died in an accident near Camp Lemonnier, Djibouti.  Nick was serving on his fifth deployment, and the accident occurred while the aircraft was returning from a mission in support of Operation Enduring Freedom.
Nick was a humble man of honor and dignity.  Nick was passionate about his service to his country and believed in the missions he was a part of.  Nick was committed to success and carried out every action with excellence and in a way that honored the talents he was given.  All that Nick accomplished on this earth, and all that will be accomplished through his memory, will continue to honor the life he lived.  The legacy he has left will forever be alive and remembered by all who knew him.
Nick was born December 10, 1982 in Newnan, Georgia.  Nick is the son of Jimmy and Clare Whitlock and brother of James and Robert Whitlock.  Nick graduated from Newnan High School in 2001 as an honor graduate and recognized athlete in football and baseball.  Nick attended Mercer University and earned a bachelor of business administration degree in 2005.
Nick earned his private pilot's license in 2005, and was accepted into the United States Air Force in 2006.  Nick was then assigned to Officer Training School at Maxwell Air Force Base in Montgomery, Alabama, and there he was commissioned second lieutenant.  Nick was selected for pilot training in the Euro NATO Joint Jet Pilot Training program at Sheppard Air Force Base in Wichita Falls, Texas.  In 2008, Nick received his wings and was assigned to Air Force Special Operations.  Nick was based at Hurlburt Field, near Fort Walton Beach since 2008 as a member of the 34th Special Operations Squadron.  Nick was promoted to captain in November of 2010 and was assigned to the U-28A aircraft. Nick earned his master's of business administration from the University of Florida in 2011.
Nick was married November 20, 2010, in Jacksonville, Florida to Ashley Oddi, and they lived in Destin, Florida.  As a husband, Nick was loving, strong, thoughtful, considerate, honest, and generous; a true gentleman and steadfast man of God.  Nick was patient, complimentary and a devoted husband who built a marriage around the Lord.  In the year of their marriage, Nick and Ashley enjoyed the pleasure of true love and the blessing of having found each other.  Nick spent a great deal of time in prayer asking God to shape his life and his marriage for His purpose so that the blessings they received would not stop with them, but extend to everyone they met. Nick was a devoted husband in a perfect partnership defined by immeasurable joy and love.
Nick was an Eagle Scout.  Nick was described as living life in the Eagle Scout way and continued to exemplify this through further service with Alaska's Healing Hearts, a non-profit organization enabling disabled military veterans to participate in outdoor adventures.  Nick strived to do his best, do his duty to God and country, help others at all times, keep himself physically strong, mentally awake and morally straight.
Nick is remembered as being bold, courageous, fearless, determined, wonderful and someone to stand in awe of.  Of all Nick's qualities, most important was his devotion to the Lord.  Nick was a mighty man of God and a mighty warrior for the Lord.  Nick sought the truth, trusting Jesus as his Lord and Savior.  Nick not only read his Bible, but he studied the scripture and did additional research to seek clarity.  All those who knew Nick have a peace knowing that Nick is with Jesus and will be a mighty warrior for Jesus upon His return.