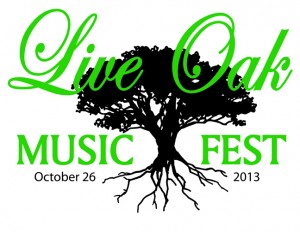 The 2012 Hunter 87 Bluegrass Bash was such a tremendous success that we have grown the event into the Live Oak Music Fest! All proceeds continue to go toward the Nicholas Whitlock Leadership Scholarship, a scholarship awarded to a deserving Newnan High School senior.
This event took place on Saturday, October 26, 2013 at the Powers Pavilion in Newnan, Georgia (4766 Hwy 34 West, Newnan, GA 30263). The event ran from 10:00 am until 10:30 pm.
The Live Oak Music Fest included a full day of live music performed by: Table 18, Zedella, Kris Youmans, Sawdust, Leonard Washington, Winfield Smith of S&W, and Kevn Kinney(of Drivin n' Cryin).
A special thank you from Rick Barnes, "Thank you to all that came out to the Live Oak Music Fest this year in support of the Whitlock Foundation! It was a great community event and a fun-filled day of good music, good food and community camaraderie. It was a beautiful day in which we remembered the life of a beautiful person. All the money raised will go toward continuing to fund the scholarship at Newnan High as well as other local projects. Thanks to all of our sponsors as well as all of the bands that donated their time and talents. We look forward to seeing what next year brings as well as making this a community event that everyone looks forward to every year. Thanks for all the support!!"
To read the article written about this event by the Newnan Times-Herald, please click here.
For further information about this event or future events, please contact one of the following:
Rick Barnes- rbarnes@whitlockfoundation.com
Ana Edge- aedge@whitlockfoundation.com
James Whitlock- jwwhitlock@whitlockfoundation.com
Matt Kuehl- mkuehl@newnanutilities.org
We would like to say a special thank you to Martin Pate for designing the logo for the event.  You can check out his website at www.pateart.com.
Thank you to all of our wonderful sponsors!
~Arnall Grocery Company
~Smith Gray Electric Company
~Newnan Utilities Lighthouse Committee
~Herr Electric
~Long Orthodontic
~Coweta-Fayette EMC
~State Farm Insurance- Stephanie Fagerstrom
~Yancey Wire & Cable
~McKoon Funeral Home